Welcome back everyone! How is your day going? Lovely? I hope so! Because you need to gear up for another Top Ten Tuesday! 
Top Ten Tuesday is a weekly meme hosted by the Broke and the Bookish! Top Ten Tuesday is super easy, guys! All you have to do to participate is to link back to their blog and include their logo. Oh, and of course you list your top ten answers for the prompt you're given by them! Fun? Let's get going!
This week's prompt is all on debut authors and their sequels. It's all about them! Today, we will be discussing their loveliness and how immensely blessed they are with the talent and art of writing if they can successfully write a sequel to their debut novel. I'm going to be sharing my current favorite sophomore novels (sequels) to debuts! 
All italics is Goodreads blurb!
1. Scarlet by Marissa Meyer
Though I didn't enjoy this as much as Cinder, I still loved it. Cinder is my sister, and gurl, she is totally awesome. Therefore
Scarlet not completely focusing on her, I didn't love it as much, mostly because of, well, Scarlet, and Wolf. I didn't like those two. But everyone else was great.
Cinder, the cyborg mechanic, returns in the second thrilling installment of the bestselling Lunar Chronicles. She's trying to break out of prison–even though if she succeeds, she'll be the Commonwealth's most wanted fugitive.
Halfway around the world, Scarlet Benoit's grandmother is missing. It turns out there are many things Scarlet doesn't know about her grandmother or the grave danger she has lived in her whole life. When Scarlet encounters Wolf, a street fighter who may have information as to her grandmother's whereabouts, she is loath to trust this stranger, but is inexplicably drawn to him, and he to her. As Scarlet and Wolf unravel one mystery, they encounter another when they meet Cinder. Now, all of them must stay one step ahead of the vicious Lunar Queen Levana, who will do anything for the handsome Prince Kai to become her husband, her king, her prisoner.
2. Siege and Storm by Leigh Bardugo
Siege and Storm, once more, wasn't as good as Shadow and Bone. Shadow and Bone was amazing. Siege and Storm was interesting, the plot successful nevertheless, although I didn't appreciate each character as much here. I sort of felt like, um, some of the people should just step out of the pages so I can smash their nose in. But whatevs.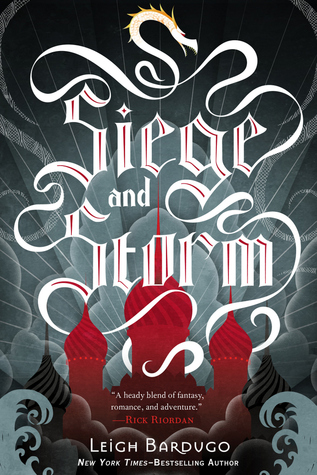 Darkness never dies.
Hunted across the True Sea, haunted by the lives she took on the Fold, Alina must try to make a life with Mal in an unfamiliar land. She finds starting new is not easy while keeping her identity as the Sun Summoner a secret. She can't outrun her past or her destiny for long.
The Darkling has emerged from the Shadow Fold with a terrifying new power and a dangerous plan that will test the very boundaries of the natural world. With the help of a notorious privateer, Alina returns to the country she abandoned, determined to fight the forces gathering against Ravka. But as her power grows, Alina slips deeper into the Darkling's game of forbidden magic, and farther away from Mal. Somehow, she will have to choose between her country, her power, and the love she always thought would guide her–or risk losing everything to the oncoming storm.
3. Harry Potter and the Chamber of Secrets by J.K. Rowling
Harry Potter is my go to for anything! I love to reread it and it won't fail me, not with the perfection. It has so much everything, so much tension, action, plot, entertainment, honestly, the Chamber of Secrets is amazing. And if you haven't read the Harry Potter series…just–just don't. Don't get me started (OFF WITH YOUR BOOKS). You had better have read it or else, *facepalm* you know what your next book is and you're going to read it right NOW.
All Harry Potter wants is to get away from the Dursleys and go back to Hogwarts School for Witchcraft and Wizardry. But just as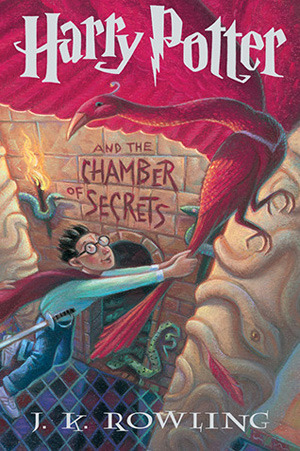 he's packing his bags, Harry receives a warning from a strange, impish creature named Dobby – who says that if Harry Potter returns to Hogwarts, disaster will strike.
And strike it does. For in Harry's second year at Hogwarts, fresh torments and horrors arise, including an outrageously stuck-up new professor, Gilderoy Lockheart, a spirit named Moaning Myrtle who haunts the girls' bathroom, and the unwanted attentions of Ron Weasley's younger sister, Ginny.
But each of these seem minor annoyances when the real trouble begins, and someone–or something–starts turning Hogwarts students to stone. Could it be Draco Malfoy, a more poisonous rival than ever? Could it possibly be Hagrid, whose mysterious past is finally told? Or could it be the one everyone at Hogwarts most suspects… Harry Potter himself.
4. Catching Fire by Suzanne Collins 
GUYS. This was just perfection, okay? Perfection in everything and anything.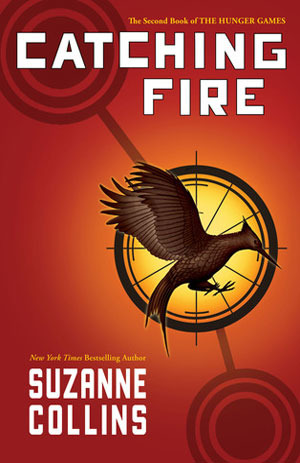 Sparks are igniting.
Flames are spreading.
And the Capitol wants revenge.
Against all odds, Katniss has won the Hunger Games. She and fellow District 12 tribute Peeta Mellark are miraculously still alive. Katniss should be relieved, happy even. After all, she has returned to her family and her longtime friend, Gale. Yet nothing is the way Katniss wishes it to be. Gale holds her at an icy distance. Peeta has turned his back on her completely. And there are whispers of a rebellion against the Capitol – a rebellion that Katniss and Peeta may have helped create.
Much to her shock, Katniss has fueled an unrest she's afraid she cannot stop. And what scares her even more is that she's not entirely convinced she should try. As time draws near for Katniss and Peeta to visit the districts on the Capitol's cruel Victory Tour, the stakes are higher than ever. If they can't prove, without a shadow of a doubt, that they are lost in their love for each other, the consequences will be horrifying.
In Catching Fire, the second novel in the Hunger Games trilogy, Suzanne Collins continues the story of Katniss Everdeen, testing her more than ever before…and surprising readers at every turn.
5. Prodigy by Marie Lu
Prodigy was so amazing, I cannot even fathom how to express it. This is a one of a kind novel that I REALLY enjoyed and I am so thankful and pleased that the author wrote it, or else, I don't know what I would be right now. Probably mush. Or gunk. 'Cuz, like, how does someone live without Day? (Wow, that wordplay worked out better than I thought)
Injured and on the run, it has been seven days since June and Day barely escaped Los Angeles and the Republic with their lives. Day is believed dead having lost his own brother to an execution squad who thought they were assassinating him. June is now the Republic's most wanted traitor. Desperate for help, they turn to the Patriots – a vigilante rebel group sworn to bring down the Republic. But can they trust them or have they unwittingly become pawns in the most terrifying of political games?                                                                                                                                                        
6. Throne of Fire by Rick Riordan
I am on the third book in this trilogy and gawd it is so intense. This trilogy comes and packs a punch, okay? You do NOT want to let it slip by.
Ever since the gods of Ancient Egypt were unleashed in the modern world, Carter Kane and his sister Sadie have been in
trouble. As descendants of the House of Life, the Kanes have some powers at their command, but the devious gods haven't given them much time to master their skills at Brooklyn House, which has become a training ground for young magicians.
And now their most threatening enemy yet – the chaos snake Apophis – is rising. If they don't prevent him from breaking free in a few days' time, the world will come to an end. In other words, it's a typical week for the Kane family.
To have any chance of battling the Forces of Chaos, the Kanes must revive the sun god Ra. But that would be a feat more powerful than any magician has ever accomplished.
First they have to search the world for the three sections of the Book of Ra, then they have to learn how to chant its spells. Oh, and did we mention that no one knows where Ra is exactly?
Narrated in two different wisecracking voices, featuring a large cast of new and unforgettable characters, and with adventures spanning the globe, this second installment in the Kane Chronicles is nothing short of a thrill ride.
7. Percy Jackson and Sea of Monsters by Rick Riordan
Dudes, this was a book delicacy. All of the Percy Jackson books are. They let me connect with my true past, and I got a glimpse of what regular people saw my dad, dear ol' Poseidon as. Is he that scary? Yeesh, Percy, why do you have to go and be so heroic. Like, really. Annabeth, you rock, though. Like, you go girl.
The heroic son of Poseidon makes an action-packed comeback in the second must-read installment of Rick Riordan's amazing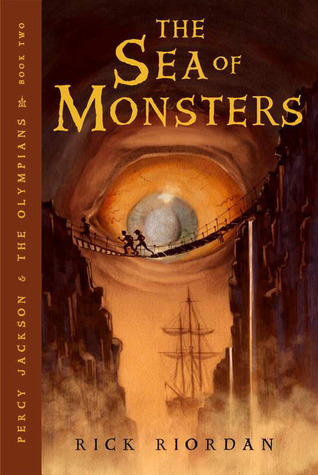 young readers series. Starring Percy Jackson, a "half blood" whose mother is human and whose father is the God of the Sea, Riordan's series combines cliffhanger adventure and Greek mythology lessons that results in true page-turners that get better with each installment. In this episode, The Sea of Monsters, Percy sets out to retrieve the Golden Fleece before his summer camp is destroyed, surpassing the first book's drama and setting the stage for more thrills to come.
8. Son of Neptune by Rick Riordan 
Unfortunately, I didn't like the first book at all! I liked this SO. MUCH. BETTER. All throughout the Lost Hero I was practically crying because WHERE ARE YOU PERCY. But hey, this made up for it.
Seven half-bloods shall answer the call,

To storm or fire the world must fall.
An oath to keep with a final breath,
And foes bear arms to the Doors of Death.
Percy is confused. When he awoke from his long sleep, he didn't know much more than his name. His brain fuzz is lingering, even after the wolf Lupa told him he is a demigod and trained him to fight with the pen/sword in his pocket. Somehow Percy manages to make it to a camp for half-bloods, despite the fact that he has to keep killing monsters along the way. But the camp doesn't ring any bells with him. The only thing he can recall from his past is another name: Annabeth
Hazel is supposed to be dead. When she lived before, she didn't do a very good job of it. Sure, she was an obedient daughter, even when her mother was possessed by greed. But that was the problem — when the Voice took over her mother and commanded Hazel to use her "gift" for an evil purpose, Hazel couldn't say no. Now because of her mistake, the future of the world is at risk. Hazel wished she could ride away from it all on the stallion that appears in her dreams.
Frank is a klutz. His grandmother says he is descended from heroes and can be anything he wants to be, but he doesn't see it. He doesn't even know who his father is. He keeps hoping Apollo will claim him, because the only thing he is good at is archery — although not good enough to win camp war games. His bulky physique makes him feel like an ox, especially infront of Hazel, his closest friend at camp. He trusts her completely — enough to share the secret he holds close to his heart.
Beginning at the "other" camp for half-bloods and extending as far as the land beyond the gods, this breathtaking second installment of the Heroes of Olympus series introduces new demigods, revives fearsome monsters, and features other remarkable creatures, all destined to play a part in the Prophesy of Seven.
9. City of Ashes by Cassandra Clare
This was so much better than City of Bones, no kidding. In City of Bones, our great hero Clary just seemed like a scaredy-cat because she wasn't at all able to defend herself. Atleast in this, she had more character and strength and I love seeing that overall.
Clary Fray just wishes that her life would go back to normal. But what's normal when you're a demon-slaying Shadowhunter, your mother is in a magically induced coma, and you can suddenly see Downworlders like werewolves, vampires, and faeries? If Clary left the world of the Shadowhunters behind, it would mean more time with her best friend, Simon, who's becoming more than a friend. But the Shadowhunting world isn't ready to let her go — especially her handsome, infuriating, newfound brother, Jace. And Clary's only chance to help her mother is to track down rogue Shadowhunter Valentine, who is probably insane, certainly evil — and also her father.
To complicate matters, someone in New York City is murdering Downworlder children. Is Valentine behind the killings — and if he is, what is he trying to do? When the second of the Mortal Instruments, the Soul-Sword, is stolen, the terrifying Inquisitor arrives to investigate and zooms right in on Jace. How can Clary stop Valentine if Jace is willing to betray everything he believes in to help their father?
In this breathtaking sequel to City of Bones, Cassandra Clare lures her readers back into the dark grip of New York City's Downworld, where love is never safe and power becomes the deadliest temptation.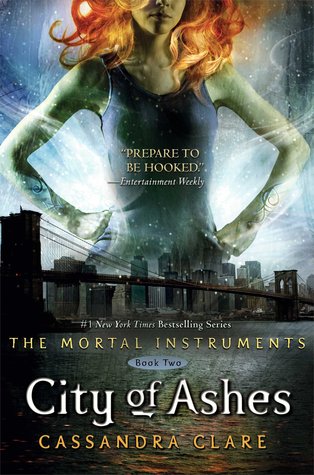 10. Scorch Trials by James Dashner
This was intensity after it climbed a mountain and killed a dozen people and put the American flag on the moon. Seriously, how do you write something like that? James Dashner, tell me all your secrets. Spill, mister. I must know how you come up with such a breathtaking story and an amazing plot that never fails to keep me hanging off the edge of the cliff each time I read it.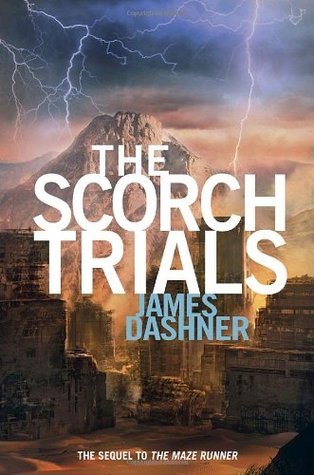 Solving the Maze was supposed to be the end.
 
Thomas was sure that escape from the Maze would mean freedom for him and the Gladers. But WICKED isn't done yet. Phase Two has just begun. The Scorch.
 
There are no rules. There is no help. You either make it or you die.
 
The Gladers have two weeks to cross through the Scorch—the most burned-out section of the world. And WICKED has made sure to adjust the variables and stack the odds against them.
 
Friendships will be tested. Loyalties will be broken. All bets are off.
 
There are others now. Their survival depends on the Gladers' destruction—and they're determined to survive.
---
So there it was! How did y'all enjoy this? Fun? Long? Boring? I hope you enjoyed! I sure felt like reciting all my favorite novels was more than just a chance for me to vent out some fangirling with you guys. Pardon me for this one and only–well, I'm reconsidering. Maybe not 'one and only'… 😀 
Thoughts?
Suggestions?
Responses?
Have you read any of these books?
If so, how did you like them?
If not, would you be interested in reading them?
What other recommendations based off of what you think I like looking at these would you give me?
Have you had any amazing reads lately? Tell me!
Let me know! Let's talk lovelies!
---